One of the sometimes overlooked facts regarding the legacy of slain civil rights leader Dr. Martin Luther King Jr. is that he was a strong supporter of organized labor.
In a victory that will prove as momentous as the 2012 defeat of the anti-union Proposition 32, the Building Trades succeeded in passing new laws to protect workers and promote jobs in the 2013 session of the California Legislature.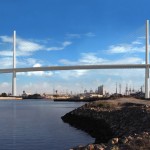 At the Port of Long Beach, a project to replace an aging bridge isn't just resulting in the creation of a new structure.