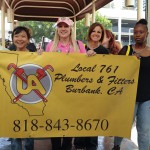 Inside the "Women Building the Nation" conference at the Gateway Sheraton LAX May 1, the excitement was contagious.
At a preview of the new Palms Expo Line station June 29, officials, Building Trades union leaders and members celebrated progress on the ocean-bound light rail line—a long-awaited installment in what is expected to be game-changing transportation infrastructure for Los Angeles.
UA Local 709 Sprinkler Fitters are currently hard at work on a new mixed-use high-rise going up at 5929 Sunset Boulevard, just opposite the new Emerson College building in the heart of Hollywood.