Photos by Mark Savage
ORANGE COUNTY, Calif.—The bond between organized labor and U.S. military veterans goes back generations. Over the years, the Building Trades have made a point to reach out to past and present members of the armed forces in order to aid them in transitioning into civilian careers.
That was the case on Veterans Day and in the days leading up to it, as numerous members of the Trades, many of them veterans, volunteered during the "Veterans and Labor" celebration honoring veterans at the Orange County Fairgrounds in Costa Mesa, and at two days of service at a VFW post in Anaheim.
On Nov. 11, Veterans Day, more than 25 leaders and members of various locals staffed a booth during the daylong community celebration, which also featured nostalgic dancers, popular music and a motorcycle ride. The volunteers answered questions from current and former military members about working in the Trades.
Jim Adams, Orange County Representative for the Los Angeles/Orange Counties Building and Construction Trades Council, said the Building Trades has made a concerted effort to recruit vets, particularly through its Helmets to Hardhats program. This national, nonprofit effort connects National Guard, Reserve, retired and transitioning active-duty military service members with training and career opportunities in the construction industry.
The program's designed to help military service members successfully transition back into civilian life by offering them the means to secure a quality career in construction.
Adams, who served in the National Guard for six years in the 1960s, said he still feels a connection to the armed forces.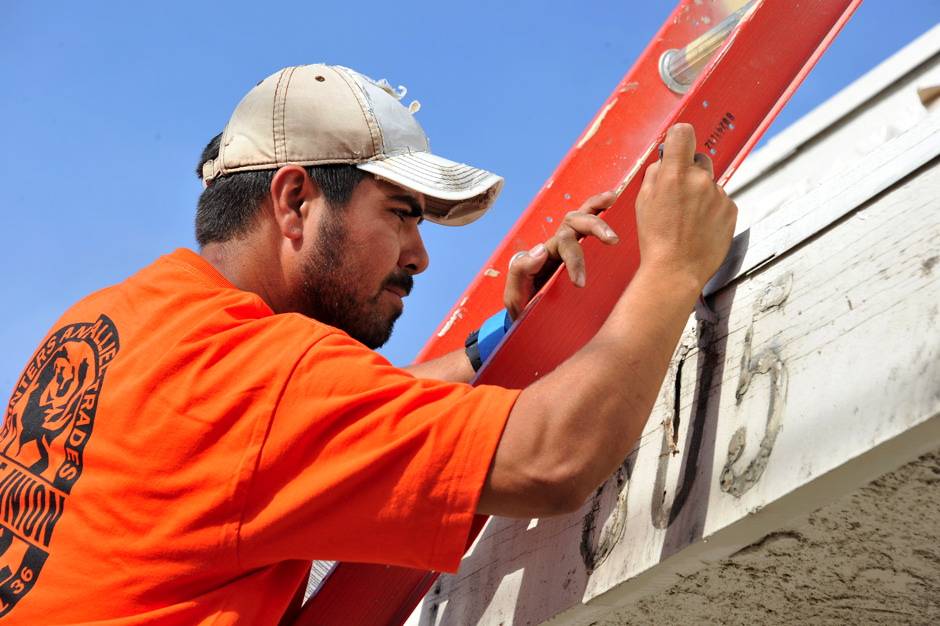 Slide 1
Richard Samaniego, far right, Business Manager of IBEW Local 441, informs visitors about union opportunities.
Slide 2
Jorge Barragan of IUPAT District Council 36/Painters Local 1036 pays attention to detail at VFW.
Slide 3
Several Building Trades locals gather to give a makeover to the Anaheim VFW.
Slide 4
Joe Tirado, left, and Jesse Segura, both of Laborers Local 652, trim the trees.
Slide 5
World War II-era dancers entertain at the Veterans and Labor celebration.
"Me personally, I'm very sympathetic to the military, to any of those guys, regardless of the branch of service they're in," he said. "If they've given their time to go over and fight for our freedom, the least we can do is have an event like this, and if there's jobs available, let's help 'em get one."
Also among those at the booth on Veterans Day were Richard Samaniego, Business Manager of IBEW Local 441, and Local 441 representative Doug Mangione. Both served active duty in the U.S. Marine Corps.
"We're pleased that labor has come together to do this. It's about time we've done it," said Mangione, who was in the Corps from 1967 to 1971, and fought in Vietnam 1969 and 1970.
"Even when I first got into the Building Trades, there were World War II vets. I found that there were a lot of veterans. I think it kind of appeals to that type of person. They are 'get things done' type of people when they come out of the service," he said. "It was a good fit for me. When I got into this field, you had a mission every day, and at the end of it you looked up and said 'mission accomplished.'"
He and Samaniego said that ex-military members are better equipped than most to take on a career in the Building Trades.
"They know they've gotta be on time, they know they're there to work. Military guys coming back, they're well disciplined," Samaniego said.
Samaniego, who served in the Marine Corps from 1971 to 1974, has been in the Building Trades since 1977. He said he was happy to volunteer at the Veterans Day event, particularly since he gets to provide information to people who are in the same position now that he was in when he left the military nearly 40 years ago.
"For me, it's about giving back to those who served," he explained. "There's nobody prouder than a serviceman who served his country. These veterans that are coming back, under the Helmets to Hardhats program they get automatic oral interview entry (for apprenticeship). It's an advantage for the military to come into our program because they're one step ahead of everybody off the street."
Among those representing Iron Workers Local 416 at the event was Lawrence Smith, who racked up 26 years of military service, including seven active duty in the U.S. Army and the remainder in the National Guard.
"If you want to get good wages and benefits, unions are a good way to go," Smith said. "It's very professional; we have a lot of pride in what we do and we maintain that high standard and it's something you can be really proud of."
That pride was on display earlier in the week in Anaheim, where about two dozen members of Building Trades local unions gave their time over two days to refurbish the Veterans of Foreign Wars Post 3173.
The 1961-built structure received a power washing, painting, cleanout, cement work, tree trimming and electrical upgrade.
"It's just fantastic that all the Trades have come out and adopted this post this year for this project," said Gary Mason, commander of the post.