SANTA ANA—In a strong and exuberant show of support for Community Workforce Agreements and unions, the Santa Ana City Council June 6 voted unanimously to renew a CWA for the city with key elements advocated by the Building Trades.
The seven-member council, after hearing Building Trades union members ask it to choose the option that would create more union jobs and apprenticeship training opportunities for Santa Ana residents and veterans, sharply rejected a competing proposal by the city staff. That proposal would have substantially limited the amount of city-funded work subject to local hiring requirements and many other worker benefits guaranteed by a CWA.
Santa Ana Mayor Valerie Amezcua swiftly moved for the council to vote for changes that were supported by the Los Angeles/Orange Counties Building and Construction Trades Council and its affiliated local unions.
The council agreed to have the CWA apply to prime multi-trade work exceeding $750,000 and to prime specialty contractor work exceeding $100,000.
The council further agreed to set the duration of the CWA at 10 years.
At Councilman Phil Bacerra's request, the council also expanded the CWA to cover the building of city-funded affordable housing.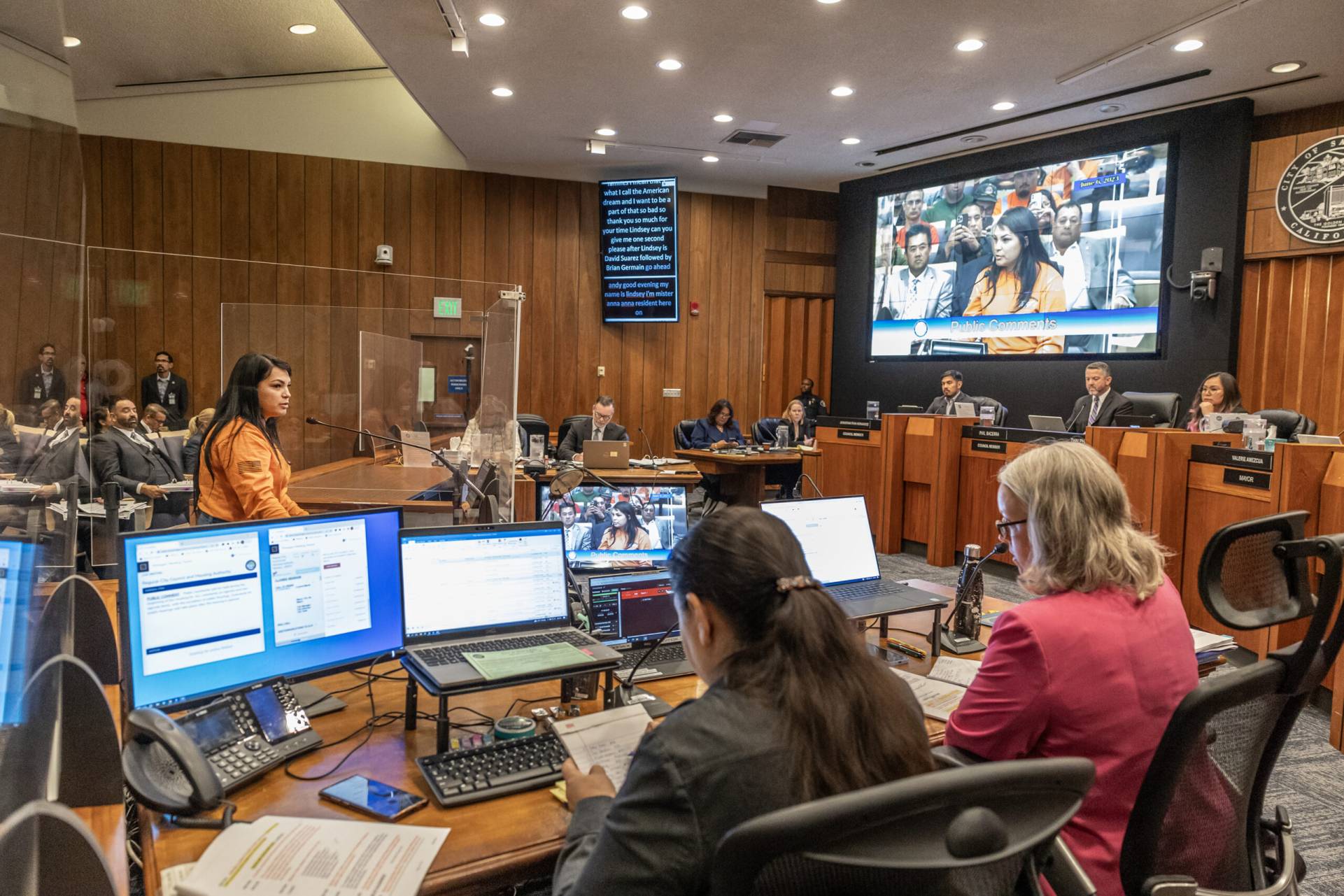 Slide 1
Iron Workers Local 433 journeymen Luis Mendoza, with T-shirt, and Luis Garcia, left.
Slide 2
Ricardo Garcia, left, and Brian Germain of SMART Local 105 with Norma Lopez of Teamsters Local 952.
Slide 3
Mayor Valerie Amezcua, center, leads the discussion.
Slide 4
Union members and allies stand up for the CWA.
Slide 5
Speaker and union member Lindcey Ayala is a Santa Ana resident.
Slide 6
Iron Workers Local 433 members, l-r: Hector Aviles, Jason Healey, Luis Alvarez and Guillermo Anaya.
Overall, it was a win for stronger worker protection and career opportunities for Santa Ana residents.
"I was pleased by the manner in which the mayor and city council unanimously supported our position," said Ernesto Medrano, Executive Secretary of the Los Angeles/Orange Counties Building and Construction Trades Council.
Medrano attributed the council's sympathy with the Building Trades' position to the advance work of his team but also to the mass turnout of members from a variety of unions. He estimated that more than 150 Tradesmen and Tradeswomen, many wearing shirts or vests from their locals, filled the city council chamber.
"It makes it easier to get these agreements when our members mobilize in large numbers and tell their story," Medrano said.
Lindcey Ayala, a Santa Ana resident and member of Iron Workers Local 433, said to stay employed she takes jobs in other cities and even other states. She said she supports more CWA public works projects in Santa Ana because "I would love to get back to my home and my community" and she wants the same opportunity for her union brothers and sisters.
Kenny Williams, President of the Orange County Labor Federation and a representative of the Communication Workers of America, noted that the local economy will benefit. "When people live and work in Santa Ana, they spend their money here in Santa Ana."
John Hanna, Rancho Santiago Community College District Trustee, said he wanted to join the "chorus" of speakers favoring the Building Trades' proposed thresholds. "Let's not try to minimize participation here," Hanna said. "Let's try to encourage the city, the school district and the college district to work with the Building Trades…to get our young people who live in Santa Ana to get into an occupation where they can afford to buy a home in the city that they were raised in."
Doug Mangione, business representative for IBEW Local 441, noted that the local was founded in Santa Ana and has an apprenticeship training facility there. He said IBEW apprentices need experience on all sizes of projects.
Before voting, council members pledged their support of working people in Santa Ana and the role of labor unions. Councilman Johnathan Ryan Hernandez, a Santa Ana native whose maternal grandfather was a member of Laborers Local 652, said, "This vote today is to make sure we have a CWA that works for workers."
Mayor Amezcua said she was proud of her union membership during her past 30-year career with the Orange County Probation Department and she applauded the Building Tradesmen and women in the audience for their hard work and commitment to joint action."When you guys come out, you come out in numbers, and that is because you are family. You are family to each other and I really appreciate that," she said.