WASHINGTON, DC—Apprenticeship programs co-sponsored by unions and contractors outperform non-union training programs in recruiting and retaining women and racial minorities, a new study says.
North America's Building Trades Unions held its first Opportunity Pipeline Forum Jan. 17 in Washington, D.C. to present "Diversity, Equity, and Inclusion Initiatives in the Construction Trades," a data-based evaluation of the efforts by this nation's Building Trades to recruit women and people of color.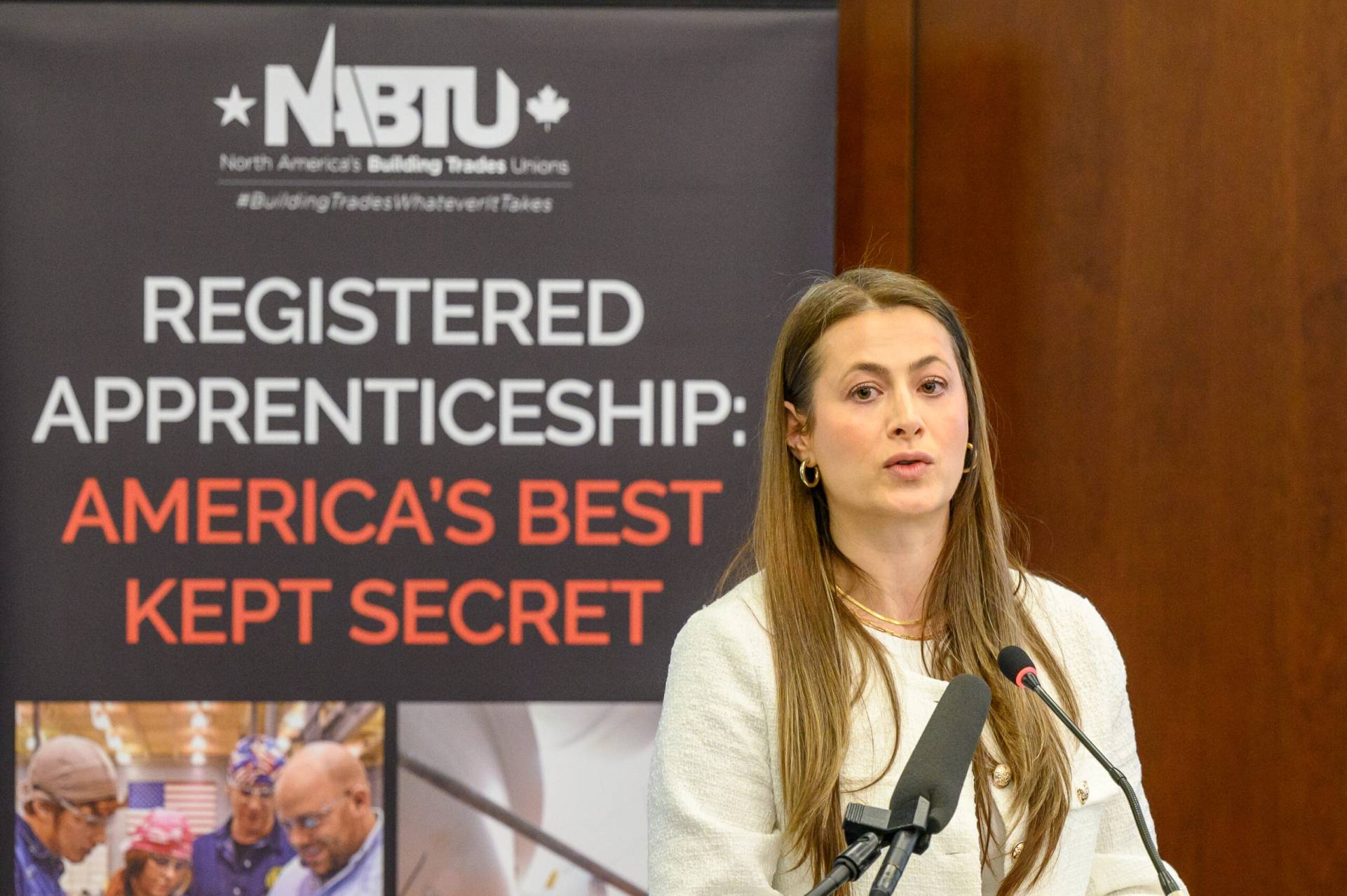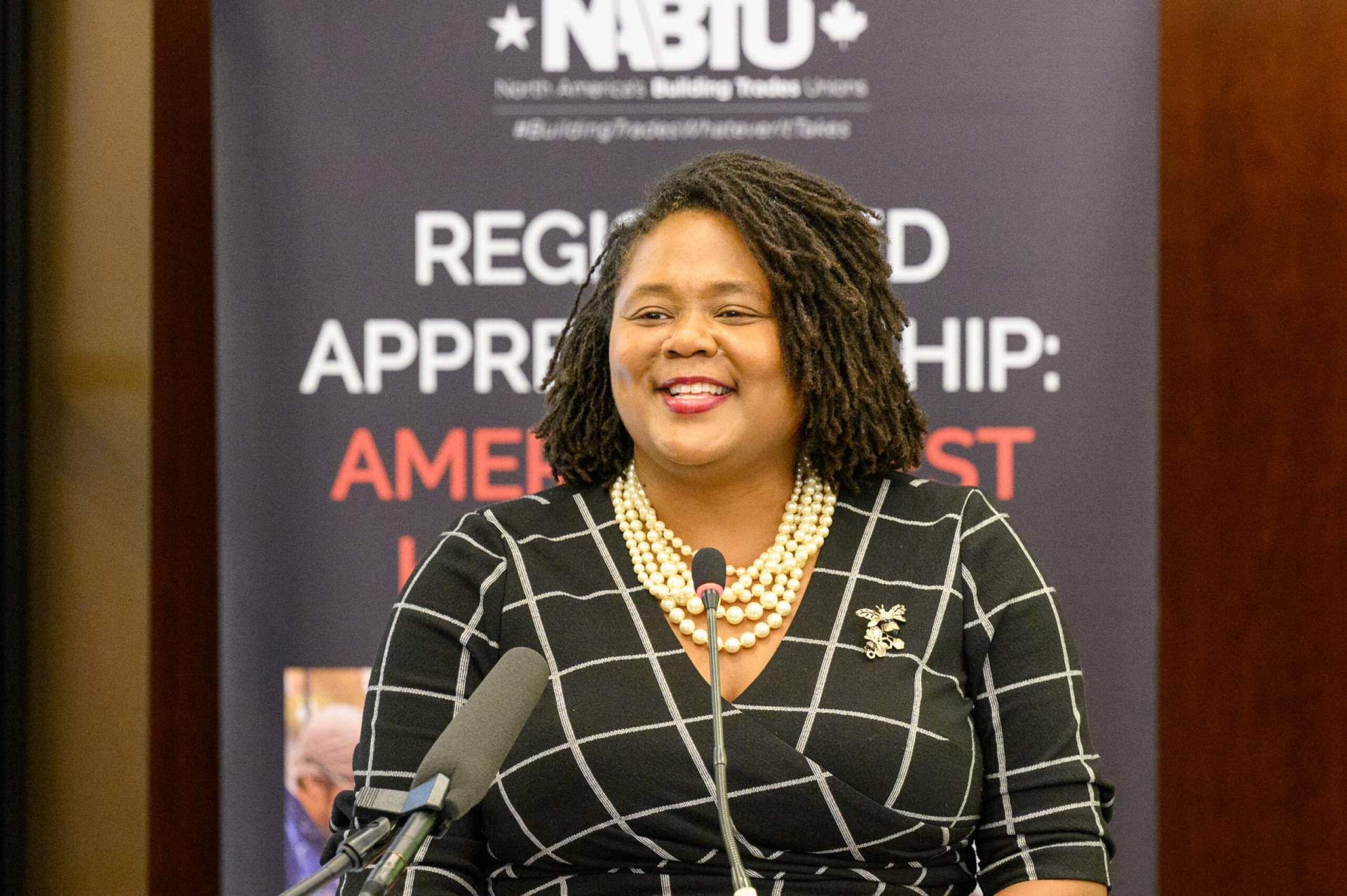 Slide 1
Allison Ziogas started with IBEW Local 3 and is now director of labor relations for Orsted Offshore, a wind-project developer.
Slide 2
"NABTU has shown how far this labor movement has come," says Fred Redmond, Secretary-Treasurer of the AFL-CIO.
Slide 3
Judaline Cassidy started with UA Local 1 Plumbers and is now a "Building Trades evangelist."
Slide 4
Chris Hannan, left, Executive Secretary of the Los Angeles/Orange Counties Building and Construction Trades Council.
Slide 5
NABTU special assistant Melissa Wells is "very passionate about racial equity and economic equity."
Slide 6
Vicki O'Leary, second from left, describes the Iron Workers' maternity leave policy.
Slide 6
NABTU President Sean McGarvey is "proud of what we have done in the last 25 years."
Results of the independent study that NABTU commissioned from the Institute for Construction Employment Research, a network of academic researchers, also gave guidance for what the Building Trades can do better.
On the positive side for NABTU, the study identified many successful union initiatives to increase diversity, from apprenticeship-readiness programs for those unfamiliar with the Trades to policies designed to support women apprentices and journey workers, such as a maternity leave benefit spearheaded by the Iron Workers.
More Work to Do
Female, Black, Latino and "other race" apprentices account for a greater proportion and number of all union, joint labor-management apprentices than their non-union counterparts, both historically (1999-2019) and in 2019, the most recent year of the data.
Nonetheless, the numbers show that the Building Trades must do more to attract women and Black Americans, with the percentage of females in the union workforce between 1999 and 2019 averaging just 2 percent, and the Black share dropping from 8 percent in the early 2000s to 6.6 percent in 2019, having failed to rebound fully after the Great Recession.
By contrast, Latino representation in union and non-union construction has seen explosive growth, particularly in states like California where Latinos are a large part of the population. The Latino share of the national Building Trades workforce doubled from 1999 to 2019. "The Latino share in construction is substantially higher than their overall share in the U.S. labor force," the report said.
Between 1999 and 2019 women filled only 3.7 percent of union apprentice slots and Black workers claimed 9.3 percent. The Latino portion of apprentice registrations was over 24 percent nationally.
"The study doesn't paint a glorious picture of the North America's Building Trades Unions. It's not everything we would want it to be. But it's not bad," said NABTU President Sean McGarvey. McGarvey said the study's results provide a "benchmark" of data that construction Trades can use to continue pushing toward workforce diversity.
McGarvey said he is "proud of what we have done in the last 25 years and I greatly anticipate what we'll do over the next 25." He noted that "the Building Trades are investing a couple billion dollars a year of our own money operating 1,600 apprenticeship training centers that rival anything in the world. We have 250,000-plus people in our training programs currently and room to dramatically ramp that up when the opportunities present themselves."
Great Time to Join Union Trades
Several speakers said the timing couldn't be better to train women and minorities to help fill skyrocketing demand for construction workers to tackle a massive amount of projects that will stem from recent federal legislation, including the Infrastructure, Inflation Reduction and CHIPS and Science Acts.
"The demand for construction workers is absolutely unprecedented," said Sam Lyon, global workforce services manager for Bechtel, a major engineering and construction management firm.
Apprenticeship-readiness programs have expanded in recent years with a national curriculum developed by NABTU.
"The program works. It is fantastic," Lyon said.
The forum moderator, Melissa Wells, special assistant to McGarvey, is a state delegate to the Maryland State Legislature, where she serves as vice chair of the Black Caucus. Wells said she is "very passionate about racial equity and economic equity" and she is impressed by McGarvey's commitment to those causes.
"He has put his money where his mouth is," Wells said. "He is leveraging all his relationships, whether it is at the federal level with our Administration, with contractors, with other industry partners, and also with our Building Trades Council leaders across the country."
NABTU has established a nonprofit organization called Trades Futures to work with local Trades Councils in providing "wraparound services" that women and minorities need to succeed.
Before TradesFutures existed, the Los Angeles/Orange Counties Building and Construction Trades Council pioneered the use of apprenticeship-readiness programs. In 2017, the Council started its own nonprofit, the Apprenticeship Readiness Fund, to serve as an umbrella over 21 programs in two counties.
Willing to Work Hard
Panelist Chris Hannan, Council Executive Secretary, said the council is using three tools—Project Labor Agreements, apprenticeship and apprenticeship-readiness—to nurture workforce diversity. He said the doors are open to the region's union apprenticeship programs, which are training more than 21,000 apprentices living in the two counties. "You don't need any experience to come into our Trades," he said. "You just have to be willing to work hard."
Hannan also said the ARF programs have placed 1,200 people across 35 craft unions. Of those who became union construction workers through these programs, he said, 93 percent were individuals of color. While the majority were Latino, 34 percent identified as African American.
About 40 percent of ARF placements were from one of the most challenged groups for job-seeking, and a group the Trades have especially targeted: the formerly incarcerated.
Project Labor Agreements that the council negotiates typically set priorities for hiring local residents and veterans, and that has improved workforce diversity, Hannan said.
Panelist Judaline Cassidy offered her own example: She was an immigrant from Trinidad who learned the plumbing Trade, became the first woman to join UA Local 371 Plumbers (now Local 1) in New York City and now travels the country as a Building Trades evangelist.
Unions must be bolder about getting the word out to women and people of color that they can find a satisfying career and good pay to support their families by joining the Building Trades, Cassidy told forum attendees. She founded the nonprofit Tools & Tiaras to acquaint girls and women about nontraditional careers, and said she particularly enjoys visiting schools where she introduces Building Trades women as "super heroes." She tells girls as young as 6 that they too can grow up to help build the country. "I teach them that jobs don't have genders," she said.
"I know if more people find out about this who look like me, sound like me, come from where I come from, this will be a game changer," said the charismatic Cassidy, whose own daughter has become a union Sheet Metal Worker.
A Career for a Lifetime
A Building Trades career is lifelong—as much as 40 years. Retaining women and other under-represented workers once they enter their unions is another challenge, speakers said, because of obstacles that arise, especially for women with family responsibilities.
Vicki O'Leary, general organizer and director of diversity for the Iron Workers International, said the Iron Workers were prompted to introduce paid maternity leave upon learning at a caucus in 2016 that women were ignoring the dangers to themselves and their unborn children of continuing on the job without accommodating their pregnancies.
O'Leary said 143 Iron Worker women had used the paid maternity leave benefit as of the end of 2022 and 83 percent returned to their jobs after childbirth.
Ryan Boyer, the first Black man to be Business Manager of the Philadelphia Building and Construction Trades Council, described his council's program to welcome incarcerated people into the Building Trades. It provides apprentice-readiness while individuals are still in prison and allows them to stay overnight at apprenticeship programs once they are released. He said with pride that the formerly incarcerated in that program have had a 97 percent retention rate.
Boyer said there is "a need to confront and challenge some of our leaders in unions that want to take it the old way" by limiting recruitment to relatives of existing union members, who grow up knowing what it means to be a Trades worker.
He said he sparks the attention of youths with no knowledge of the value of a Building Trades career by asking, "How would you like to make more than a lawyer in four years and have no debt?"