Photos by Bonnie Osborne
LOS ANGELES—Inside the "Women Building the Nation" conference at the Gateway Sheraton LAX May 1, the excitement was contagious. At this annual conference designed by and for women in the Building Trades—who are almost always the only woman on the job—there was an immediate sense of empowerment and community; proof that at the end of a long year they are not alone.
More than 1,200 delegates attended the three day conference from May 1-3.
"I meet a lot of great, powerful women at this conference, and that empowers me to be a better leader," said Rose Perez of Laborers Local 300. "It's about pride, hard work and believing in yourself. I've been in labor 20 years, and I will say that women are more accepted today in the field."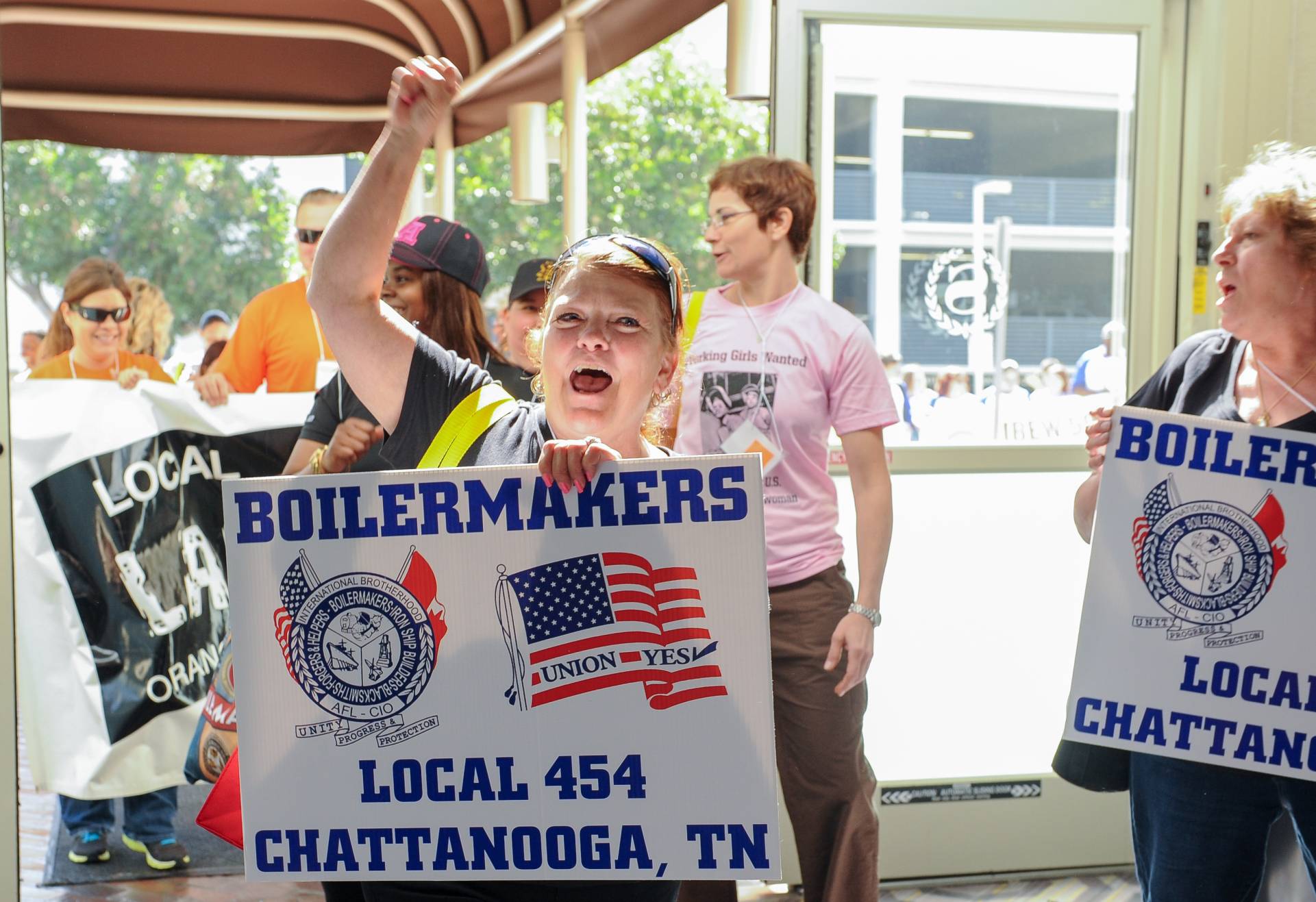 Slide 1
Members of UA Local 761 march in the banner parade
Slide 2
Apprentice Angela Fuller, far right, joins her sisters in IUPAT Local 1247.
Slide 3
Three generations in IBEW: (l-r) Jane Templin of IBEW Local 11, daughter Jennifer Tabor of IBEW Local 357 and grandson Robert Zambrano of Local 11.
Slide 4
"As the Building Trades, we have to do a better job of outreach to communities, to underserved populations, to veterans, and to women, to make an entree into the middle class," says Brent Booker, Secretary-Treasurer of the North America's Building Trades.
Slide 5
These members of Boilermakers Local 454 came all the way from Tennessee.
"Women Building the Nation" has grown exponentially since it became a national event five years ago, having been a statewide conference in the preceding decade, from about 200 participants to more than 1,000 from all over the country. It is sponsored by the State Building and Construction Trades Council of California, and North America's Building Trades Unions.
Women attended from many local unions of the LA/Orange Counties Building and Construction Trades Council. "I'm the first African-American woman in my local, and the second woman," noted Angela Fuller, a 3rd year apprentice with IUPAT Local 1247, Flooring. "Before my apprenticeship, I had three jobs, and they didn't make as much as I do in this one career. It's extremely challenging, but I'm being trained by the best. I really enjoy it—the pay, the people I meet, the places I've been able to go."
New Demand for Skilled Workers
The conference is a full three days of seminars and sessions designed to give women the tools they need to thrive and carve out avenues of advancement within their respective Trades. This year's lineup included seminars on social media, higher education, becoming a contractor, public policy, running for elected office, personal finance, public speaking and organizing. This year's conference also integrated a multi-media approach, including video, visual arts and social media.
As it grows, reflecting a wider net of politically and socially aware and engaged women, the need for further expansion still looms. The proportion of women in the Building Trades is about 3 percent nationwide.
In his welcome address, National Building Trades Secretary-Treasurer Brent Booker explained that the projected demand for skilled workers over the next several years is an opportunity the Building Trades take seriously.
"Tens of thousands, if not hundreds of thousands of new workers will need to be trained, recruited and organized over the next five to 10 years," Booker said. "As the Building Trades, we have to do a better job of outreach to communities, to underserved populations, to veterans, and to women, to make an entree into the middle class," Booker said to applause.
How to Keep Women on the Job
Patti Devlin of the Laborers International called attention to "strength in numbers" as a major theme in this year's conference.
"We've all got work to do, and we've got to stop the revolving door," she said. "We've got to retain folks. There's strength in numbers, and we want to make it happen. We want to have more and more women retire with a good union pension."
On May 2, prominent elected and union officials took the stage.
Labor leader Connie Leyva, now a California State Senator, urged union activists to run for public office. "The skills you use at your local union are the same skills you use in Sacramento," she said.
Assemblywoman Cristina Garcia pointed to her "100 percent labor voting record" and noted that 15 women will leave the legislature soon because of term limits. "We have to make sure we come to parity," she said.
Laborers International President Terry O'Sullivan, always a rousing speaker, shouted
"Women build!" and added that "women represent a tremendous wealth of talent that our industry desperately needs."
Mothers and Daughters in the Trades
There were also many longtime members veterans in attendance, as well as mothers and daughters.
One of those mother-daughter teams, Katherine and Barbara MacLaren of IBEW Local 11, described a shared passion for business development, especially toward more inclusive goals.
Katherine MacLaren, a water board member in Palmdale and union organizer for more than 20 years, said she's seen "a lot more awareness" of emerging opportunities for women.
"I'm 54 now; if I would have known about that years ago, I would have probably done something like that at a younger age. And now my daughter is 28 and she's really interested in things for women," she said.
Barbara MacLaren started in business development for Local 11 just a few weeks prior to the conference.
"My mother inspired me with everything she's done. The amount of work she has created for the workers, that's something I want to keep doing for the women, especially, and the disadvantaged workers. I see a lot of opportunity for that going forward."