Photos by Kenneth Johansson
LOS ANGELES—At a preview of the new Palms Expo Line station June 29, officials, Building Trades union leaders and members celebrated progress on the ocean-bound light rail line—a long-awaited installment in what is expected to be game-changing transportation infrastructure for Los Angeles.
Local dignitaries and media gathered behind the yellow line, craning their necks to get a glimpse at the future of public transportation as a test train pulled into the station and everyone hopped aboard.
The enthusiastic atmosphere was more akin to waiting in line at Disneyland than the morning commute these trains will soon service.
Starting in 2016, the Expo Line Phase 2 will offer thousands of riders the option to travel between downtown Los Angeles and Santa Monica without needing a car, Los Angeles Mayor and Metro Board Chair Eric Garcetti said. "It's great to see this line that's going to reduce traffic, but it makes me just as happy to see men and women from Los Angeles being put to work in the midst of the recession, and now as we come out of it," Garcetti told "Building Trades News."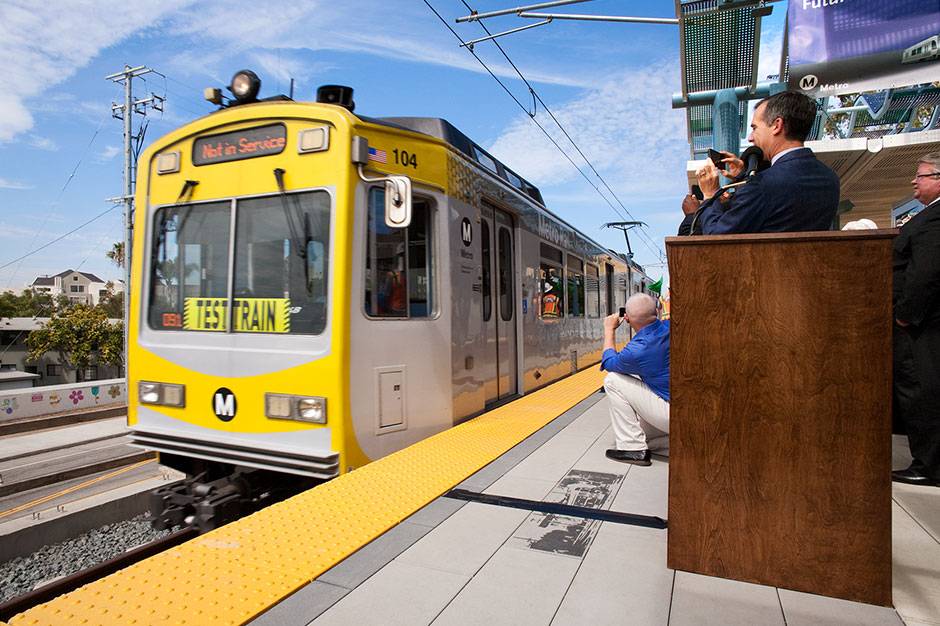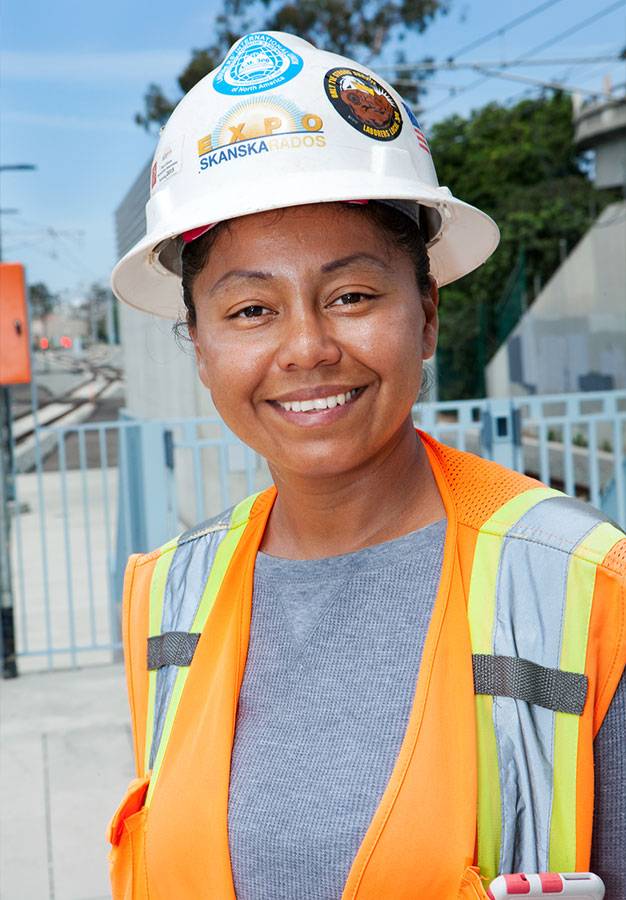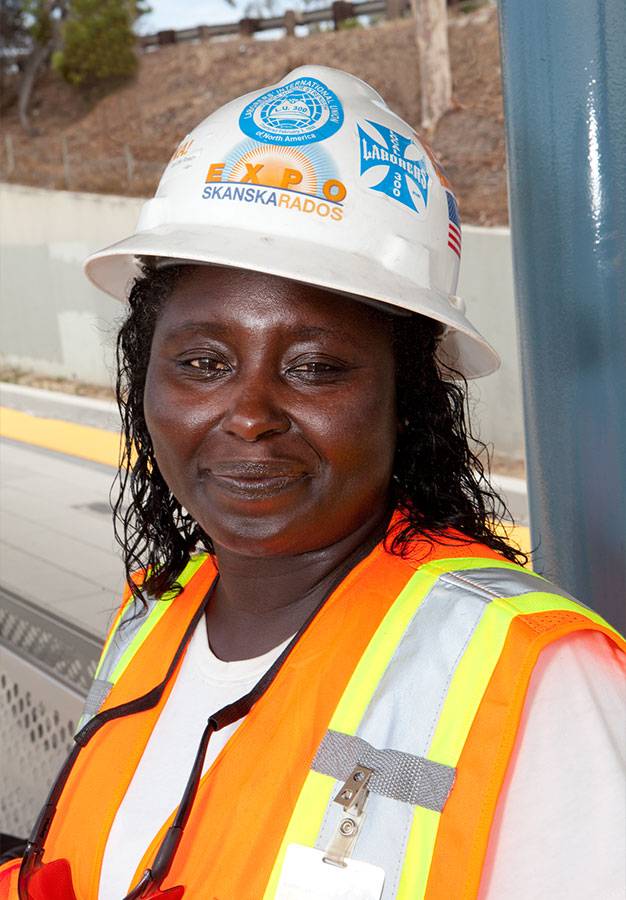 Slide 1
Mayor Eric Garcetti, at podium, snaps the train as it pulls into the station.
Slide 2
"I'm part of Expo, I helped to build it, and I'm from LA, so my kids, when they grow up, they'll be riding it too," says Maria Padilla, a 15-year Laborers Local 300 member.
Slide 3
"I noticed when I got out here, parking was horrible. So Expo will be a great way to get a lot of the people from having to drive and find a place to park," says Melinda Thomas, a 21-year Laborers Local 300 member.
Slide 4
Lorena Vela of Laborers Local 300 was recently promoted to foreman. "I have great workers, I know I can depend on them. You ask them to do something and they'll do it, no complaints. This is a hard Trade—this is a man's Trade. But luckily they accept me. There are a lot more females now working with us. If they want to do hard work, yes, they're more than welcome to come and join."
Slide 5
Installing the overhead infrastructure for the all-electric train.
Labor Agreement Makes a Difference
This 6.6-mile, $1.5 billion segment will connect Culver City to Santa Monica, bringing passengers all the way to the beach from Downtown with an estimated 46-minute ride time. Palms is one of seven new stations in Phase 2.
Built by contractor Skanska-Rados Joint Venture under a Project Labor Agreement with the Los Angeles/Orange Counties Building and Construction Trades Council, the project has so far logged more than 1 million hours and 600 work days without lost time, according to the Exposition Construction Authority.
The difference between Phase 1 and Phase 2, said Building Trades Executive Secretary Ron Miller, is evident. Phase 1 opened in 2012 but did not have a Project Labor Agreement.
"Phase 2 is very successful due to the fact that we had an agreement for local hire. It's on time and under budget, and it shows the power of having an agreement in place to put skilled craftsmen and women to work and make things happen," Miller said. "The PLA presents the local community with an opportunity for a career in the Building Trades."
Mayor Garcetti pointed to the investment in infrastructure and jobs.
"People forget that infrastructure investment means jobs, and that is recession-proof. So it's awesome to see these dollars get recycled. And these are gonna be some of the folks who ride these trains with their children and say, 'I made this happen,'" he added.
Amazing Safety Record
City Councilmember Paul Koretz congratulated Expo for "an amazing safety record during the construction of this huge public transportation project."
Los Angeles County Supervisor Mark Ridley-Thomas also praised Phase 2 for being on time and on budget, thanks to a PLA.
"This is what the public sector ought to do," Ridley-Thomas told "Building Trades News." "I do not believe that the business of job creation is exclusively the obligation of the private sector. This is what you see when the public sector and the private sector work together. And we should have more and more examples of this, to put men and women to work."
Expo Phase 2 is funded by local and state dollars, including funds from Measure R, the half-cent sales tax increase approved by voters in 2008.
"The Trades have suffered significantly over the last part of the recession, and it's tough coming out of that," Ridley-Thomas said. "But good news is on the horizon, particularly when you think about the number of rail projects that are being built in LA County. And so there is no more potent an example of public-private partnership than transportation, specifically Expo and Metro."
Delfino de la Cruz, who covers the area as a representative for Laborers Local 300, said the project has been a boon for members.
A Veteran Finds His Place
"We've had a lot of our disadvantaged members that we've put to work here with local hire. They are really grateful. We have stories from our members saying they were able to buy houses, or put their kids through college. Before, the stories were, 'I'm out of work for six months, I can't afford to feed my kids, I'm getting evicted.' You don't hear that now," de la Cruz said.
According to the Exposition Construction Authority, nearly 3,000 Building Trades members and other employees have contributed to the project, with the contractor exceeding its local hire commitment.
For Juan Rodriguez, an apprentice with Local 300, the project is "a blessing." "I was in the military for six years, in the Marine Corps and stationed in Seal Beach," Rodriguez said. "And now I've been working here, and studying nights. So it's been tough for me, but the company has been so great that they work with me and my schedule. My experience with the union has been fantastic. I'm very grateful for the union. Without them I don't think I'd be here at this moment; I'd be struggling financially as I was before I joined. I started from the bottom and now I'm making decent money where I can support myself and my family."
Begun in April, testing on the extension is nearly 40 percent complete and will continue for several months, after which Expo states it plans to turn the line over to Metro for "pre-revenue operations."