Photos by Mark Savage
GARDENA, Calif.—One of the sometimes overlooked facts regarding the legacy of slain civil rights leader Dr. Martin Luther King Jr. is that he was a strong supporter of organized labor. In fact, when he was assassinated on April 4, 1968 in Memphis, Tennessee, he was in town to support sanitation workers who were on strike for union recognition.
Dr. King's legacy is one of both labor and civil rights activism—and the two continue to be intertwined. This important point was reinforced during a Jan. 16 labor breakfast to honor Dr. King; the fact that the late icon was a strong supporter of organized labor was not lost on 600 union members, elected officials and activists attending the event at the meeting hall of UA Local 250 Steamfitters and Pipefitters in Gardena.
The annual breakfast, which has been organized by the Los Angeles County Federation of Labor for well over a decade, brings a diverse crowd together to honor Dr. King's "legacy, his life, the accomplishments, the achievements that he made," according to Local 250 Business Manager George Vasquez.
Never Forget the Struggle
"He worked to stop injustice, segregation, poverty, and believed in equality for women in the workforce," Vasquez, the event's opening speaker, said. "Dr. King, his wisdom and courage and the pursuit of change is the reason why we're here today. His legacy will never be forgotten."
This year's breakfast, which was held on the day after what would have been Dr. King's 85th birthday, attracted some of the region's, state's and country's more notable supporters of organized labor, including International Brotherhood of Teamsters President James Hoffa, Los Angeles City Council President Herb Wesson, who served as the event's master of ceremonies, and state Attorney General Kamala Harris.
"Let labor have its day—we'll straighten this country out," Hoffa told the cheering crowd.
Luther Medina, Business Manager for Sheet Metal Local 105, said the breakfast serves in part to remind members of the labor movement of the battles that unions have grappled with in the past and continue to face.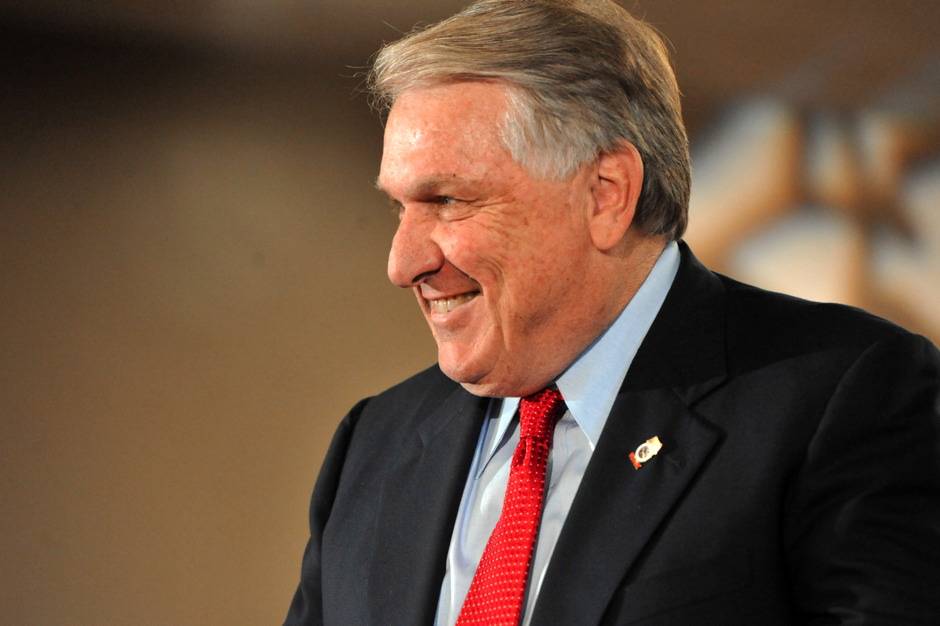 Slide 1
Herb Wesson, President of the Los Angeles City Council.
Slide 2
James P. Hoffa, Teamsters President.
Slide 3
Kamala Harris, California State Attorney General.
Slide 4
Dr. Martin Luther King Jr.
Slide 5
Teamsters take a picture with their President.
"It's very important that we never forget," Medina said. "It's a struggle that's generational, so it's important to us to continue to educate those that come behind us on the struggles of the working class. The things that we have accomplished to date can be taken away in a heartbeat."
Medina said that despite the progress made in the past, the struggle is far from over.
"As far as organized labor is concerned, the struggle has never been as tough," he said. "With the wage disparity in this country—the United States of America, the wealthiest country in the world—when you have such rampant wage disparity and poverty, that's a crime in itself. It's our responsibility as labor representatives to continue to fight not just for our members but for all workers, to let them know that the struggles continue today and we cannot let up."
The Labor Miracle
The annual MLK breakfasts, which are attended by members of various labor unions across southern California, have been a tradition for 15 years. "I'm so honored to have it back here at this local union; we bring great hospitality. I enjoy everybody that's here today," Local 250 political chairman Joe Macias, one of the breakfast's chief organizers, said.
The day comes with a lot of pride, Macias said, since Dr. King was passionate in his support of labor.
The ideals that Dr. King ultimately gave his life for are part of the foundation of what organized labor stands for today.
"Martin Luther King's labor movement was in conjunction with everything that he believed in," Macias said, "which was treating everybody fairly, make sure that everybody has an opportunity to feed their families, buy some shoes, and get respect and dignity."
King himself often spoke to labor gatherings. In 1961, he told an AFL-CIO convention: "By raising the living standards of millions, labor miraculously created a market for industry and lifted the whole nation to undreamed of levels of production. Those who attack labor forget these simple truths, but history remembers them."